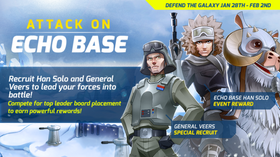 An Event that held during the Jan 28th - Feb 2nd 2015.
Two Exclusive Champions available during this event: Echo Base Han Solo (obtainable by placing top 10 in Diamond leaderboard) and General Veers obtainable by purchasing Durasteel Pods during event.
Description
Edit
Players will defend their forces from the enemy onslaught as they storm the halls of Echo Base. Both sides of the Galactic Civil War will be battling for control of the frozen planet of Hoth. Each day players will compete against their friends in the all-new challenge mode to rank up for the first time ever in the leaderboards events and earn increased experience, in-game currency and rewards. Event levels can also feature a special Bonus Wave that allows you to score higher than ever and earn increased resources. Special and unique characters will be added to the Recruitment Pod only during the week of the event to earn rare and powerful champions that are sure to turn the tide of battle.