Page Information


Champion Attack and Hp is on this page. If you want to see base stats click the "here" located on the right of each champion's synergies.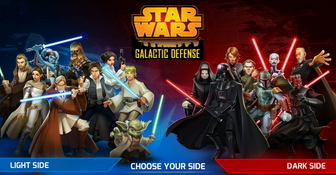 DO NOT USE THIS PAGE AS THE INFORMATION IS NO LONGER ACCURATE Edit
Champions are used along side towers to defeat enemy troops and enemy Champions. Champions are split into two categories Durasteel and Carbonite which are both available to the Light Side and Dark side, with Durasteel being more expensive than Carbonite but having a higher level cap. Champions can move to any path on the map and move over most terrain. Relics can be equipped to champions to boost their stats. Some Champion are exclusive during Events, and tend to have higher all-round stats.
For Champions Armor, Attack Speed and other Similar stats see Base Stats.
Light Side Champions
Edit
Carbonite Pod Champions
Edit
Name
Type
Ability
L15

Attack

HP

L20

Attack

HP

L25

Attack

HP

L30

Attack

HP

L35

Attack

HP

L40

Attack

HP

Champion Synergy
Planet Synergy
Base Stats
Luke Skywalker
Melee
Slow Spheres
46

964

65

1380

88

1887

116

2486

148

3167

184

3959

Dodge
Movement Speed
here
Princess Leia
Ranged
Area Damage
36

864

52

1237

71

1692

93

2229

118

2848

147

3549

HP Regen
Movement Speed
here
Qui-Gon Jinn
Melee
Slow & Damage
43

1031

61

1520

82

2017

108

2657

138

3396

172

4232

HP Regen
Movement Speed
here
Chewbacca
Ranged
Area Damage
40

1131

56

1618

77

2212

101

2914

128

3724

160

4642

Critical Chance
Movement Speed
here
Ki-Adi-Mundi
Melee
Area Damage
46

1064

65

1573

88

2082

116

2743

148

3505

184

4369

HP Regen
Movement Speed
here
Wedge Antilles
Ranged
Air Strike
30

898

43

1284

59

1757

77

2314

99

2957

123

3686

Attack Speed
Movement Speed
here
Ahsoka Tano
Melee
Stat Boost
43

931

61

1332

82

1822

108

2495

138

3067

172

3822

Attack Speed
Movement Speed
here
Senator Bail Organa
Ranged
Summon Guard
30

931

43

1332

59

1822

77

2495

99

3067

123

3822

Armor
Movement Speed
here
Durasteel Pod Champions
Edit
Name
Type
Ability
L15

Attack

HP

L20

Attack

HP

L25

Attack

HP

L30

Attack

HP

L35

Attack

HP

L40

Attack

HP

L45

Attack

HP

L50

Attack

HP

L55

Attack

HP

L60

Attack

HP

Champion Synergy
Planet Synergy
Base Stats
Aayla Secura
Melee
Slow & Damage

49

997

69

1427

94

1952

124

2571

158

3286

197

4096

240

5,000

288

7200

396

8283

Dodge
Movement Speed
here
Admiral Ackbar
Ranged
Air Strike

43

1131

61

1618

82

2212

108

2914

138

3724

172

4642

210

5667

252

6800

297

8040

347

9388

Armor
Movement Speed
here
Han Solo
Ranged
Air Strike

43

1131

61

1618

82

2212

108

2914

138

3724

172

4642

210

5667

252

6800

297

8040

347

9388

Critical Chance
Movement Speed
here
Kit Fisto
Melee
Area Damage

43

1064

61

1522

82

2082

108

2743

138

3505

172

4369

210

5333

252

6400

297

7567

347

8836

Attack Speed
Movement Speed
here
Lando Calrissian
Ranged
Summon Guard

43

1131

61

1618

82

2212

108

2914

138

3724

172

4642

210

5667

252

6800

297

8040

347

9388

Movement Speed
Movement Speed
here
Mace Windu
Melee
Area Damage

49

1197

69

1713

94

2342

124

3086

158

3943

197

4915

240

6000

288

7200

8513

396

9940

Attack Speed
Movement Speed
here
Obi-Wan Kenobi
Melee
Slow & Damage
49

1197

69

1713

94

2342

124

3086

158

3943

197

4915

240

6000

288

7200

8513

396

9940

Dodge
Movement Speed
here
Padmé Amidala
Ranged
Slow & Damage
40

1164

56

1665

77

2277

101

3000

128

3834

160

4778

195

5833

7000

276

8276

322

9664

Dodge
Movement Speed
here
Plo Koon
Melee
Slow & Damage
46

1131

65

1618

88

2212

116

2914

148

3724

184

4642

225

5667

270

6800

318

8040

372

9388

Damage
Movement Speed
here
Yoda
Melee
Area Damage
58

1131

82

1618

112

2212

147

2914

188

3724

234

4642

285

5667

342

6800

404

8040

471

9388

Dodge
Movement Speed
here
Event Champions
Edit
Name
Type
Ability
L15

Attack

HP

L20

Attack

HP

L25

Attack

HP

L30

Attack

HP

L35

Attack

HP

L40

Attack

HP

L45

Attack

HP

L50

Attack

HP

L55

Attack

HP

L60

Attack

HP

Champion

Synergy

Planet Synergy
Base Stats
Echo Base Han Solo
Ranged
Air Strike
61

1496

87

2141

118

2928

155

3857

198

4929

246

6144

496

12,425

Armor
Movement Speed
here
Wicket
Melee
Summon Guard
80

1280

113

1832

154

2505

202

3300

257

4217

320

5256

390

6417

468

7700

552

9,104

645

10,630

Hp Regen
Movement Speed
here
Tarfful
Ranged
Summon Guard
80

1663

113

2379

154

3253

202

4286

257
320
390
468
552
645

13,806

Armor
Movement Speed
here
Old Ben Kenobi
Melee
Slow Spheres
86

1413

122

2022

165
217
277
345

5802

420

7084

504
595
694

11,735

Attack Speed
Movement Speed
here
Mon Mothma
Ranged
Summon Guard
77

1264

109

1808

148

2472

194

3257

247

4162

308

5188

375

6334

450

7600

531

8,986

620

10,492

Hp Regen
Movement Speed
here
Gregar Typho
Ranged
Air Strike
70

1430

100

2046

136

2798

178

3686

227

4710

283

5870

345

7167

414

8600

489

10,168

570

11,873

Armor
Movement Speed
here
General
Ranged
Air Strike
80

1363

113

1951

154

2668

202

3514

257
320
390
468
552
645

11,321

Damage
Movement Speed
here
Commander Cody
Ranged
Air Strike
80

1663

113

2379

154

3253

202

4286

257
320
390

8334

468

10000

552

11824

645

13,806

Armor
Movement Speed
here
Queen Amidala
Ranged
Summon Guard
61

1297

87

1855

118

2538

155
198
246

5324

496

10,768

Dodge
Movement Speed
here
General Kenobi
Melee
Summon Guard
86

1413

122

2022

165
217

3643

277
345

5802

420

7084

504
595
694

11,735

Armor
Movement Speed
here
Ezra Bridger
Ranged
Stat Boost &

Melee Attack

80

1313

113
154
202
257
320
390
468
552
645

10,907

Dodge
Movement Speed
here
Slave Leia
Melee
Area Damage
86

1413

122

2022

165

2765

217

3643

277

4655

345

5802

420

7084

504
595
694

11,735

Damage
Movement Speed
here
Quinlan Vos
Melee
Stat Boost
86

1496

122

2141

165

2928

217

3857

277

4929

345

6144

420

7500

504
595
694

12,425

Movement Speed
here
Zeb
Melee
Area Damage
86

1596

122

2284

165

3123

595

11351

695

13254

Damage
Movement Speed
here
Lux Bonteri
Ranged
Summon Guard
80

1363

468

8200

645

11321

Movement Speed
here
Luminara Unduli
Melee
450

6500

Movement Speed
here
Embo
Ranged
Summon Pet
80

1,330

113
154
202
257
320
390
468
552
645

11045

Jedi Luke
Melee
Area Slow
92

1,363

130

1,951

177

2,668

233

3,514

297

4491

369

5597

450

6834

540

8,200

637

9695

744

11,321
Dark Side Champions
Edit
Carbonite Pod Champions
Edit
Name
Type
Ability
L15

Attack

HP

L20

Attack

HP

L25

Attack

HP

L30

Attack

HP

L35

Attack

HP

L40

Attack

HP

Champion Synergy
Planet Synergy
Base Stats
Aurra Sing
Ranged
Stat Boost
46

898

65

1284

88

1757

116

2314

148

2957

184

3686

Critical Chance
Movement Speed
here
Bossk
Ranged
Area Damage
43

1031

61

1520

82

2017

108

2657

138

3396

172

4232

Damage
Movement Speed
here
Darth Maul
Melee
Area Damage
43

931

61

1332

82

1822

108

2495

138

3067

172

3822

Attack Speed
Movement Speed
here
Darth Vader
Melee
Slow & Damage
49

1131

69

1618

94

2212

124

2914

158

3724

197

4642

Armor
Movement Speed
here
Dengar
Ranged
Area Damage
43

1031

61

1475

82

2017

108

2657

138

3396

172

4232

Armor
Movement Speed
here
IG-88
Ranged
Slow & Damage
36

964

47

1380

65

1887

85

2486

108

3176

135

3959

Damage
Movement Speed
here
Jango Fett
Ranged
Area Damage
36

964

52

1380

71

1887

93

2486

118

3176

147

3959

Attack Speed
Movement Speed
here
Pong Krell
Melee
Stat Boost
40

1031

56

1475

77

2017

101

2657

128

3396

160

4232

Critical Chance
Movement Speed
here
Durasteel Pod Champions
Edit
Name
Type
Ability
L15

Attack

HP

L20

Attack

HP

L25

Attack

HP

L30

Attack

HP

L35

Attack

HP

L40

Attack

HP

L45

Attack

HP

L50

Attack

HP

L55

Attack

HP

L60

Attack

HP

Champion Synergy
Planet Synergy
Base Stats
Asajj Ventress
Melee
Slow & Damage
49

964

69

1380

94

1887

124

2486

158

3176

197

3959

288
396

8007

Attack Speed
Movement Speed
here
Boba Fett
Ranged
Area Damage
43

1031

61

1475

82

2017

108

2657

138

3396

172

4232

210

5167

252

6200

297

7330

347

8559

Attack Speed
Movement Speed
here
Cad Bane
Ranged
Area Damage
30

1031

43

1475

59

2017

77

2657

99

3396

132

4232

150

5167

180

6200

212

7330

248

8559

Damage
Movement Speed
here
Count Dooku
Melee
Area Damage
52

1164

74

1665

100

2277

132

3000

168

3834

209

4778

255

5833

306

7000

361

8276

421

9664

Damage
Movement Speed
here
Dark Side Anakin
Melee
Area Damage
52

1197

74

1713

100

2342

132

3086

168

3943

209

4915

255

6000

306

7200

361

8513

421

9940

Damage
Movement Speed
here
Darth Sidious
Ranged
Area Damage
77

1097

109

1570

148

2147

194

2829

247

3615

308

4505

375

5500

450

6600

531

7803

620

9112

Damage
Movement Speed
here
General Grievous
Melee
Stat Boost
36

1197

52

1713

71

2342

93

3086

118

3943

147

4915

180

6000

216

7200

255

8513

297

9940

Armor
Movement Speed
here
Grand Moff Tarkin
Ranged
Slow Spheres
43

1164

61

1665

82

2277

108

3000

138

3834

172

4778

210

5833

252

7000

297

8276

347

9664

Critical Chance
Movement Speed
here
Greedo
Ranged
Scrap Boost
40

1131

56

1618

77

2212

101

2914

128

3724

160

4642

195

5667

8040

276

9040

322

9388

Attack Speed
Movement Speed
here
Savage Opress
Melee
Slow & Damage
46

1164

65

1665

88

2277

116

3000

148

3834

184

4778

225

5833

270

7000

318

8276

372

9664

HP Regen
Movement Speed
here
Event Champions
Edit
Name

Type
Ability
L15

Attack

HP

L20

Attack

HP

L25

Attack

HP

L30

Attack

HP

L35

Attack

HP

L40

Attack

HP

L45

Attack

HP

L50

Attack

HP

L55

Attack

HP

L60

Attack

HP

Champion

Synergy

Planet Synergy
Base Stats
General Veers
Ranged
Summon Vehicle
61

1496

87

2141

118

2928

155

3857

198

4929

246

6144

496

12425

Damage
Movement Speed
here
Admiral Piett
Ranged
Air Strike
73

1397

104

1998

142

2733

186

3600

237

4601

295

5734

360

7000

432

8400

510

9932

595

11597

Armor
Movement Speed
here
Cradossk
Ranged
Stat Boost
57

1051

75

1425

98

1881

124

2419

154

3041

227

4531

270

5400

316

6351

366

7385

Damage
Movement Speed
here
Darth Maul Resurrected
Melee
Aura
86

1264

122

1808

165

2472

217

3257

277

4162

345

5188

420

6334

504

7600

595

8986

694

10492

Armor
Movement Speed
here
Wat Tambor
Ranged
Ion Artillery
80

1,447

113

2,070

154
202
257
320

5,939

390

7,250

468

8,700

552

10,286

645

12,011

Armor
Movement Speed
here
Zam Wesell
Ranged
Area Damage
92

1280

130

1832

177

2505

233

3300

369

5256

450

6417

540

7700

637

9104

744

10630

Dodge
Movement Speed
here
General Tagge
Ranged
Stat Boost to Allies
80

1,447

113

2,070

154

2,830

202

3,729

257

4,765

320

5,939

390

7,250

468

8,700

552

10,286

645

12,011

HP Regen
Movement Speed
here
Poggle the Lesser
Ranged
Summon Guard
46

1038

65

1413

88

1870

116
148
184
225
270
318
372
Damage
Movement Speed
here
Nute Gunray
Ranged
Scrap Boost
109

1951

148

2668

194
247
308
375
450
531

9695

620
Armor
Movement Speed
here
Hondo Ohnaka
Ranged
Air Strike
73

1,347

104
142
186
237
295
360
432
510
595
Damage
Movement Speed
here
The Inquisitor
Melee
Lighsaber

Helix

86

1,413

122

2,022

165

2,765

217

3,643

277

4,655

345

5,802

420

7,084

504

8,500

595

10,050

694

11,735

Damage
Movement Speed
here
Jabba the Hutt
Ranged
Summon Guard
92

2,162

130

3,093

177

4,230

233

5,572

297

7,120

450

10834

540

13,000

Damage
Movement Speed
here
Agent Kallus
Ranged
Stat Boost &

Melee Attack

73
104

1,879

142

2,570

237

4,327

295

5,393

Movement Speed
here
General Kalani
Ranged
Summon Guard
86

1,596

Movement Speed
here
Dark Side Barris Offee
Melee
Area Damage
80

1,264

113

1,808

154

2,472

202

3,257

257

4,162

320

5,188

Movement Speed
here
Pre Vizsla
Ranged
Stat Boost &

Melee Attack

73

1,397

104

1,998

142

2,733

186

3,600

237

4,601

295

5,734

360

7,000

432

8,400

510

9,932

595

11,597

Malakili
Melee
Summon Pet
83

1,430
References
Edit
Star Wars Galactic Defense iOS Game https://itunes.apple.com/au/app/star-wars-galactic-defense/id913289247?mt=8
Star Wars Galactic Defense Android Game https://play.google.com/store/apps/details?id=com.mobage.ww.a1903.SWTD_Android&hl=en
Wookiepedia (Star Wars Wiki) [[1]]