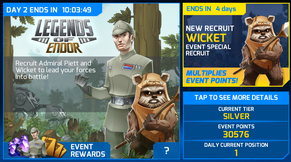 Events are limited time competitions that consist of players competing against each other, players are encouraged to reach the highest score/ranking throughout a set amount of days to progress to the next tier, with daily rewards and exclusive Champions to unlock.
Overview
Edit
Challenges (Overall) Edit
During an event, there are different Challenges available to play as special missions, Challenges will impose special rules when playing a mission, posing a greater difficulty in exchanges for Event Points.
Challenges (Types) Edit
Scrap Challenges : Completing a mission with a reduced amount of starting Scrap available.
Champions Challenge : Complete a mission with all Champion slots deactivated.
Support Cards Challenge : Complete a mission will all Support Cards deactivated.
Tower Slots Challenge : Complete a mission with fewer tower slots available.
Tower Types Challenge : Complete a mission with fewer tower types available.
Defense Points Challenge : Complete a mission with less starting defense points.
Event Points Edit
Completing challenges will earn players Event points according to the difficulty of the Challenge. The more Event Points a player earns, the higher they'll ranked in the Event Leaderboard.
Leaderboard Edit
Depending on the amount of Event Points earned, players are ranked in a daily Leaderboard. Within each Leaderboard there are reward brackets, and the higher you rank, you'll get better rewards at the end of each event day.
Tiers and Promotion Edit
Each event contains multiple tiers of competitions, Players are assigned to one of five tiers depending on their performance in the Challenges. If a player is in the top bracket of their tier at the end of the day, they will be promoted to a higher tier for the next day, and have the chance to compete for even better rewards.
Daily Event Points Rewards Edit
Regardless of a player's position in the leaderboard, earning event points will unlock Event Point Rewards automatically after reaching a fixed amounts of "thresholds". the higher the threshold, the better the rewards.
Event Champions Edit
During an event, two new Champions are released, on for each side of the Force. A Special Recruit becomes available in the Durasteel Pod, which can be obtained normally. Also a champion at maximum skill level is awarded to the top 3 players in the Diamond Tier at the end of the event.
After playing an event mission, a player has a chance to get Frenzy Bonus. This bonus will remain active for 15 minutes, during which the player will get a multiplier for all the Event Points that they earn for completing the event missions.
Post-Challenge Rewards Edit
After playing any of the Event Challenges, a player can get different rewards, which are awarded even if the mission was failed. The rewards can include: Relics, Galactic Credits, Gems, Event Tickets and "Frenzy".
Event Special Recruit Edit
The Event Special recruit will multiply the event points each challenge awards you. Each copy of the Event Special Recruit you collect will increase the multiplier to your event points and you will receive bonus regardless of if the Special Recruit is used in battle or not.
Special Recruit Multiplier Edit
Special Recruits Multiply the event points you earn regardless of if they are in your squad. Collect more Special Recruits to increase the multiplier higher.
EP Bonus Multiplier Details
| 1 Copy | 2 Copies | 3 Copies | 4 Copies | 5 Copies | 6 Copies | 7 Copies | 8 Copies | 9 Copies | 10 Copies |
| --- | --- | --- | --- | --- | --- | --- | --- | --- | --- |
| 120% | 145% | 165% | 185% | 200% | 215% | 230% | 240% | 250% | 300% |
List of Events
Edit
Attack On Echo Base (Jan 28th - Feb 2nd, 2015)
Legends Of Endor (Feb 19th - Feb 24th, 2015)
Fierce Enemies (Mar 5th - Mar 9th, 2015)
Jedi Hunt (Mar 13th - Mar 18th, 2015)
Galactic Dominance (Mar 19th - Mar 24th, 2015)
Covert Conflict (Mar 26th - Mar 31st, 2015)
The Emperor's Wrath (April 2nd - April 7th, 2015)
War on Geonosis (Arena) (April 9th - April 14th, 2015)
Royal Strife (April 16th - April 21st, 2015)
Pirate Trouble (Arena) (April 23rd - April 28th, 2015)
A Rebellion is Born (Arena) ( April 30th - May 5th, 2015
Bane of the Crime Lord (May 14th - May 19th, 2015)
Raging Light Sabres (Arena) (May 20th - May 25th 2015)
Undying Grudge (May 27th - June 1st, 2015)
War of Ideals (Arena) (June 4th - June 9th, 2015) 
Hunt for the Fallen (June 10th - June 15th, 2015)
Hunters Standoff (Arena) (June 17th - June 22nd, 2015)
Enter the Pit (Arena) (June 24 - June 29th, 2015)
Kashyyyk Update (August 27th 2015)