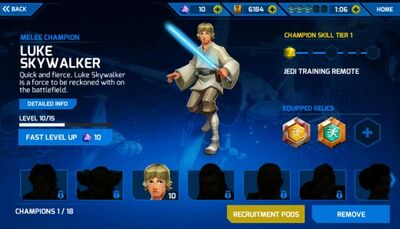 Relics are items that can be equiped on
champions
or
towers
, giving them a stat's boost.
It will give you one of the boosts shown on this list (This list is for Champions)
Attack
2. Heath
3. Armor
4. Attack Speed
5. Dodge
6. Critical Chance
7. Movement Speed
Towers
1.Attack
2. Attack Speed
3. Critical Chance
Relics vary in level, represented by a Roman's algorithm, and in tier, represented by it's border.
| | | | |
| --- | --- | --- | --- |
| Name | Bonus | Level | Selling Credit |
| Armor 1 (I) | Adds 2% Armor | 1 | 50 |
| Armor 2 (II) | Adds 3% Armor | 5 | 100 |
| Armor 3 (III) | Adds 5% Armor | 15 | 250 |
| Attack 01 (I) | Adds +2 Attack | 5 | 50 |
| Attack 01 (I) | Adds +4 Attack | 5 | 100 |
| Attack 02 (II) | Adds +3 Attack | 10 | 50 |
| Attack 02 (II) | Adds +6 Attack | 10 | 100 |
| Attack 03 (III) | Adds +5 Attack | 15 | 50 |
| Attack 03 (III) | Adds +8 Attack | 15 | 100 |
| Attack 04 (IV) | Adds +7 Attack | 20 | 50 |
| Attack 04 (IV) | Adds +12 Attack | 20 | 100 |
| Attack 05 (V) | Adds +9 Attack | 25 | 50 |
| Attack 05 (V) | Adds +16 Attack | 25 | 100 |
| Attack 06 (VI) | Adds +12 Attack | 30 | 50 |
| Attack 06 (VI) | Adds +30 Attack | 30 | 250 |
| Attack 07 (VII) | Adds +15 Attack | 35 | 50 |
| Attack 08 (VIII) | Adds +18 Attack | 40 | 50 |
| Attack 08 (VIII) | Adds +33 Attack | 40 | 100 |
| Attack 08 (VIII) | Adds +48 Attack | 40? | 250? |
| Attack 09 (IX) | Adds +23 Attack | 45 | 50 |
| Attack 09 (IX) | Adds +41 Attack | 45 | 100 |
| Attack 10 (X) | Adds +27 Attack | 50 | 50 |
| Attack Special 3 (III) | Adds 25% Attack | 1 | 2000 |
| Attack Speed 1 (I) | Adds 2% Attack Speed | 1 | 50 |
| Attack Speed 2 (II) | Adds 3% Attack Speed | 5 | 100 |
| Attack Speed 3 (III) | Adds 5% Attack Speed | 15 | 250 |
| Attack Speed 4 (IV) | Adds 8% Attack Speed | 30 | 750 |
| Critical Chance 1 (I) | Adds 1% Critical Chance | 1 | 50 |
| Critical Chance 2 (II) | Adds 2% Critical Chance | 5 | 100 |
| Critical Chance 3 (III) | Adds 3% Critical Chance | 15 | 250 |
| Critical Chance 4 (IV) | Adds 4% Critical Chance | 30? | 750 |
| Dodge 1 (I) | Adds 2% Dodge Chance | 1 | 50 |
| Dodge 2 (II) | Adds 3% Dodge Chance | 5 | 100 |
| Dodge 3 (III) | Adds 4% Dodge Chance | 15 | 250 |
| Health 01 (I) | Adds +40 Hit Points | 5 | 50 |
| Health 01 (I) | Adds +80 Hit Points | 5 | 100 |
| Health 02 (II) | Adds +60 Hit Points | 10 | 50 |
| Health 02 (II) | Adds +120 Hit Points | 10 | 100 |
| Health 03 (III) | Adds +100 Hit Points | 15 | 50 |
| Health 03 (III) | Adds +180 Hit Points | 15 | 100 |
| Health 04 (IV) | Adds +140 Hit Points | 20 | 50 |
| Health 05 (V) | Adds +180 Hit Points | 25 | 50 |
| Health 05 (V) | Adds +340 Hit Points | 25 | 100 |
| Health 06 (VI) | Adds +240 Hit Points | 30 | 50 |
| Health 07 (VII) | Adds +320 Hit Points | 35 | 50 |
| Health 07 (VII) | Adds +580 Hit Points | 35 | 100 |
| Health 08 (VIII) | Adds +400 Hit Points | 40 | 50 |
| Health 08 (VIII) | Adds +720 Hit Points | 40 | 100 |
| Health 09 (IX) | Adds +860 Hit Points | 45 | 100 |
| Health 10 (X) | Adds +580 Hit Points | 50 | 50 |
| Health 10 (X) | Adds +1040 Hit Points | 50 | 100 |
| HP Special 1 (I) | Adds 25% Attack | 1 | 2000 |
| Mov. Speed 1 (I) | Adds 2% Movement Speed | 1 | 50 |
| Mov. Speed 2 (II) | Adds 3% Movement Speed | 5 | 100 |
| Mov. Speed 3 (III) | Adds 5% Movement Speed | 15 | 250 |
| | | | |
| --- | --- | --- | --- |
| Name | Bonus | Level | Selling Credit |
| Attack 2 (II) | Adds 1% Attack | 30 | 250 |
| Attack 3 (III) | Adds 2% Attack | 1 | 750 |
| Attack 4 (IV) | Adds 3% Attack | 10 | 750 |
| Attack Special 1 (I) | Adds 6% Attack ???? | ? | 250 |
| Attack Speed 2 (II) | Adds 3% Attack Speed | 5 | 100 |
| Attack Speed 3 (III) | Adds 5% Attack Speed | 15 | 250 |
| Attack Speed 4 (IV) | Adds 8% Attack Speed | 30 | 750 |
| Critical Chance 1 (I) | Adds 1% Critical Chance | 1 | 100 |
| Critical Chance 2 (II) | Adds 2% Critical Chance | 5 | 100 |
| Critical Chance 3 (III) | Adds 3% Critical Chance | 15 | 250 |